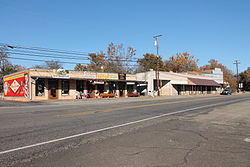 Ben Wheeler, TX
If you're looking for a local place you can eat, shop, listen to music, and learn a little small town history check out the historic town of Ben Wheeler, TX.
The town was named after a man named Benjamin (Ben) Wheeler, a pioneer mail carrier who in 1876 carried mail from Canton to Edom, TX. Today, the townsite proper is identified by 8 surviving buildings. The largest and most prominent in the town's history being the Moore's Store, which is still open today.
Ben Wheeler has lots to offer if you are looking for a fun day out shopping, a good bite to eat, or a night filled with music and fun.
The Moore's Store is a good place to eat and has a home-style menu with chicken fried steak, hand made burgers and many other options. On Tuesdays, kids eat free. Every Wednesday, they have "Unplug and Wine Down" (Acoustic Music and Wine Specials) and live music on Fridays & Saturdays starting at around 9:00 P.M.
For the Menu, Music & Event Schedule, & more information visit their website here.
The Forge- This restaurant is located within an old blacksmith shop, showcases a handcrafted rustic cedar bar & features a delicious diverse menu. They hold live acoustic music on Wednesday-Sunday nights. For more information see their Facebook page here.
There are many events hosted throughout the year for everyone to enjoy!
March: Barstool Races
April: Easter at the Community Library
June: June Bug Festival
July: Independence Day Celebration
August: Annual Fish Fry
October: Fall Feral Hog Festival
December: Santa Claus Comes to Town
For more information about these events and everything else you need to know before visiting Ben Wheeler, take a look at their website https://benwheelertx.com/
References: www.benwheelertx.com, January/February 2018 County Line Magazine