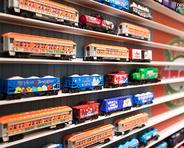 Image property of www.thetrainsatnorthpark.com
From November 17th-January 6th you can take the family to see "The Trains at Northpark" at the Northpark Center in Dallas!
The Trains at North Park have been on display every year since 1987. The display includes 1600 feet of track "rolling from coast to coast on a whimsical rail journey across America."
The 2018-2019 exhibit will run from Nov. 17th- Jan. 6th. Hours are:
Monday-Saturday 10 AM-9 PM
Sunday 11 AM- 7 PM
*Different hours for holidays*
To plan your visit, visit their website here.
Source: www.thetrainsatnorthpark.com