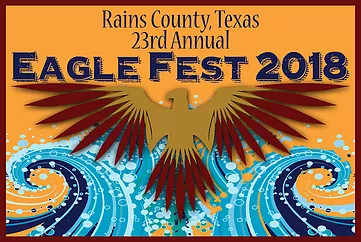 Image courtesy of https://www.visitrainscounty.com/eagle-fest-2018
If you are looking for a fun and educational event this January for you and your family to go to, check out the Rains County Eagle Fest. This event is taking place this year on January 20th, 2018 and is located at the campus of Rains Elementary School.
This festival celebrates Rains county being declared the "Eagle Capital of Texas" by Texas Legislature in 1995 as part of an effort to preserve and protect the American Bald Eagle.
Lake Fork & Lake Tawakoni and its surrounding areas are nesting and feeding grounds for bald eagles and several other species of wild birds.
At the festival, there will be bird and animal exhibit programs, live entertainment and music, educational speakers, vendors, and more!
For an additional fee, you can also take part in the boat or bus tours, which will take you on a trip to the Lake Fork Dam and to the Iron Bridge Dam at Lake Tawakoni for a chance to see Bald Eagles in their natural habitat.
For more information about this event, and to purchase tickets visit: https://www.visitrainscounty.com/eagle-fest-2018
Sources: https://www.visitrainscounty.com/eagle-fest-2018